Philip Stein Women's 'Signature Classic Tank' Black Strap Watch
Philip Stein Women's 'Signature Classic Tank' Black Strap Watch
Stainless steel with sapphire crystal window, screw-in

White mother of pearl, textured center

One, small seconds subdial at the 6 o'clock position

Sapphire coated mineral crystal

27 mm wide x 39 mm long x 10 mm thick

18 mm wide x 7 inches long
All watches sold on SIgmatime are guaranteed 100% authentic, have their original serial numbers and are shipped in factory-fresh, brand new, unworn condition with all manufacturer documentation and packaging.
Packages will contain watch manufacturer's certificate of authenticity (if such certificate is applicable, and provided by the manufacturer), tags, stickers, boxes, and user manuals.
Sigmatime ships via UPS Insured Standard Delivery (3-5 days) after the watch order has been processed. Next Day or Second Day delivery is available for an added cost. International shipping is available to most countries and your specific shipping cost will be calculated at checkout.
Note: Customs duties and taxes are the sole responsibility of the purchaser. All items are fully insured for the purchase price.
We sell luxury timepieces at considerably lower prices than the manufacturer's list price. Since we are not authorized dealers for some of the watches that we sell, we may be unable to ship the original watch manufacturer's warranty. In all cases, we provide a Two Year Sigmatime Warranty (active from the date of purchase) that offers the same or better coverage than the manufacturer's warranty.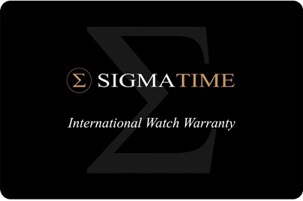 Coverage: Sigmatime will within 24 months from the date of purchase, repair or replace, at our option, the movement of this timepiece free of charge if such movement proves to be defective in material or workmanship under normal use.
Exclusions: This warranty does not cover the watch case, watch bracelet, strap, crystal, battery or wear and tear from normal wear. The warranty will be void if the watch has been mishandled or used under extraordinary conditions.
Work performed on a watch bought from Sigmatime by an unauthorized person or entry, shall automatically render this international warranty null and void.
The terms of this international warranty do not in any way restrict or otherwise affect any possible statutory rights to which the consumer may be entitled by law in the country of purchase.
Please contact us at for warranty return service so that we may assist you with the proper packing and shipping of the item.
Our 30 day money back guarantee gives you time to make sure your purchase is perfect. If you need to return it for any reason, we'll happily provide you with an exchange or refund.
Watches must be returned to us within 30 days of receipt of delivery and must be in brand new, unworn and undamaged condition. Unless you are certain that you are keeping the watch, do not remove any protective coverings, have the watch strap or bracelet resized, or wear the watch. All domestic purchases showing as "In Stock" under $3,000 will receive a full refund minus our shipping fees. A 10% re-stocking fee will apply for all other purchases. This restocking fee is charged when the item is returned and authenticated to be in new, unworn, and undamaged condition. Additional charges may be incurred, or refund refused (and item returned to customer at customer's expense) if the watch is returned in damaged condition. To return an item to please visit our Returns page for instructions.
Product Reviews
This product hasn't received any reviews yet. Be the first to review this product!